A Reproductive Justice Approach to Abortion Access and Provision in Ireland after the Eighth Amendment
Keywords:
Reproductive justice, Abortion, Reproductive governance, Intersectionality
Abstract
In this paper, I draw on ongoing ethnographic research on abortion care in Ireland. My research follows a reproductive justice framework to inquire whether pregnant people have the means and the accessibility to abortion care, and whether providers have the means to provide abortion care. I argue that my approach provides an innovative way of examining reproductive justice in Ireland through a feminist and intersectional lens. Moving away from the moral framing of abortion which has dominated the public construction of the issue in Ireland to date, the reframing of abortion as a reproductive justice opens up opportunities for a more balanced consideration of abortion provision as policy, practice and lived experience for both service users and service providers.
References
Jill Allison. Enduring politics: the culture of obstacles in legislating for assisted reproduction technologies in Ireland. Reproductive Biomedicine & Society Online, 3:134–141, 2016.
Sydney Calkin, Fiona de Londras, and Gina Heathcote. Abortion in Ireland: Introduction to the themed issue, 2020.
Joan C Chrisler. A global approach to reproductive justice-psychological and legal aspects and implications. Wm. & Mary J. Women & L., 20:1, 2013.
Kimberl´e Crenshaw. Demarginalizing the Intersection of Race and Sex: A Black Feminist Critique of Antidiscrimination Doctrine, Feminist Theory and Antiracist Politics. Contemporary Sociological Theory, 1:354, 1989.
Rishona Fleishman. The battle against reproductive rights: the impact of the Catholic Church on abortion law in both international and domestic areas. Emory Int'l L. Rev., 14:277, 2000.
Ruth Fletcher. #repealedthe8th: translating travesty, global conversation, and the Irish abortion referendum, 2018.
Chrystel Hug. The politics of sexual morality in Ireland. Springer, 2016.
Tom Inglis. The Struggle for Control of the Irish Body: State, Church, and Society. Religious Regimes and State Formation: Perspectives from European Ethnology, page 55, 1991.
Tom Inglis. Moral monopoly: The rise and fall of the Catholic Church in modern Ireland. Univ. College Dublin Press, 1998.
Annette Lareau. Listening to People: A Practical Guide to Interviewing, Participant Observation, Data Analysis, and Writing it All Up. University of Chicago Press, 2021.
Angela K Martin. Death of a nation: Transnationalism, bodies and abortion in late twentieth-century Ireland. In Gender Ironies of Nationalism, pages 65–86. Routledge, 2012.
Sandra McAvoy, Dermot Keogh, F O'Shea, and C Quinlan. Before Cadden: abortion in midtwentieth-century Ireland. The Lost Decade: Ireland in the 1950s, pages 147–63, 2004.
L Morgan. Reproductive governance meets European abortion politics. A fragmented landscape: abortion governance and protest logics in Europe. New York, Oxford, pages 266–82, 2017.
Siobh´an Mullally. Debating reproductive rights in Ireland. Human Rights Quarterly, pages 78–104, 2005.
Jennifer C Nash. Re-thinking intersectionality. Feminist review, 89(1):1–15, 2008.
Anja Nyberg. Achieving reproductive justice: some implications of race for abortion activism in Northern Ireland. Feminist Review, 124(1):165–172, 2020.
Laury Oaks. Reproductive Rights. Reproducing reproduction: Kinship, power, and technological innovation, page 132, 1998.
Karen O'reilly. Ethnographic methods. Routledge, 2012.
Vicky Randall. The politics of abortion: Ireland in comparative perspective. The Canadian Journal of Irish Studies, 18(1):121–128, 1992.
Loretta J Ross. Reproductive justice as intersectional feminist activism. Souls, 19(3):286–314, 2017.
Ellie Smith, Beth Sundstrom, and Cara Delay. Listening to women: Understanding and challenging systems of power to achieve reproductive justice in South Carolina. Journal of Social Issues, 76(2):363–390, 2020.
Ailbhe Smyth. The 'X' case: Women and abortion in the Republic of Ireland, 1992. Feminist L. Stud., 1:163, 1993.
Lisa Smyth. Abortion and nation: The politics of reproduction in contemporary Ireland. Routledge, 2017.
Beth Sundstrom, Ellie Smith, Cara Delay, John S Luque, Caroline Davila, Bailey Feder, Vincenza Paddock, Jessie Poudrier, Jennifer Young Pierce, and Heather M Brandt. A reproductive justice approach to understanding women's experiences with HPV and cervical cancer prevention. Social Science & Medicine, 232:289–297, 2019.
Carly Thomsen. From refusing stigmatization toward celebration: New directions for reproductive justice activism. Feminist Studies, 39(1):149–158, 2013.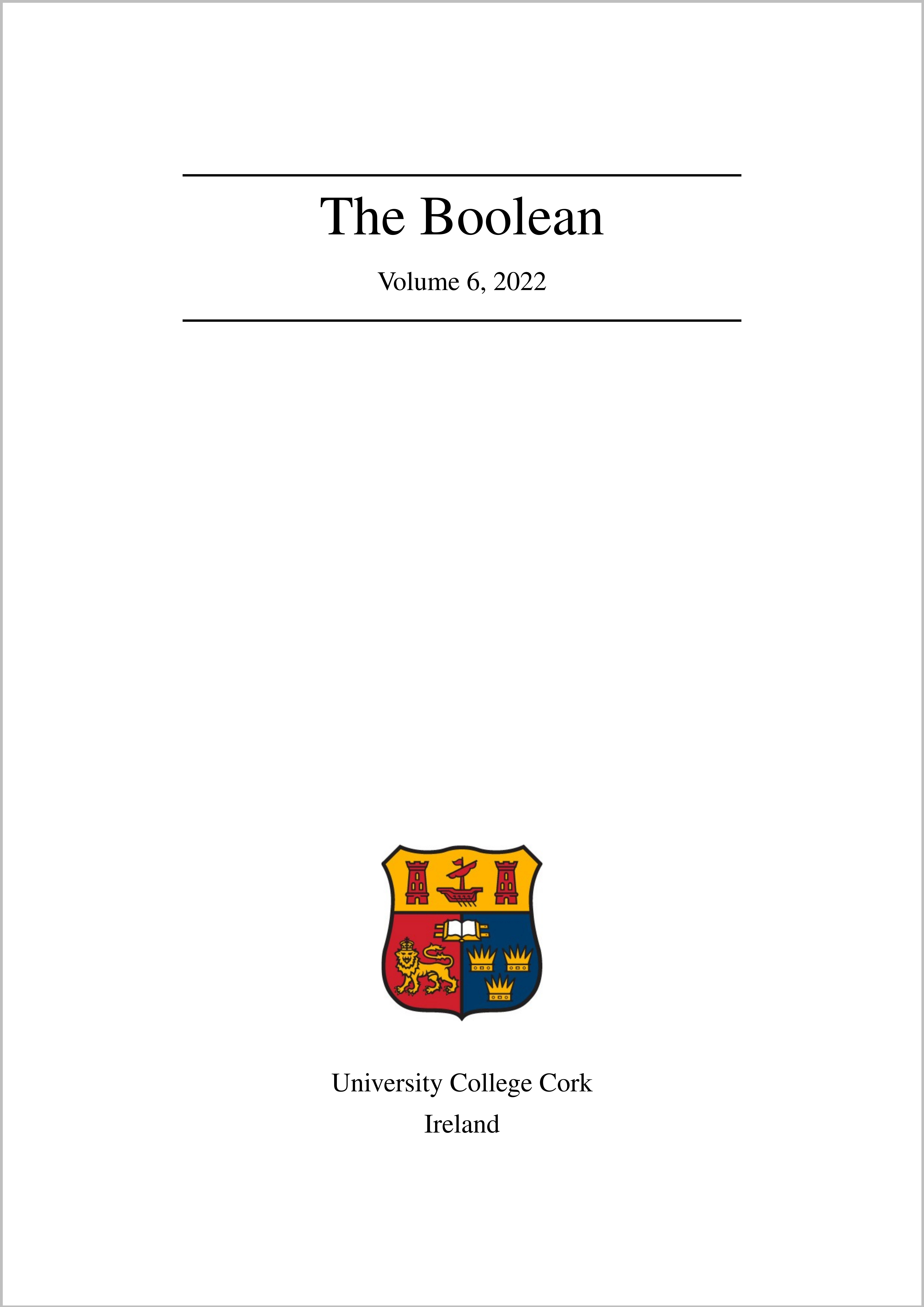 Downloads
License
Copyright (c) 2022 Charlotte Waltz
This work is licensed under a Creative Commons Attribution-NonCommercial-NoDerivatives 4.0 International License.