Edda Holl (2011): SPRACH-FLUSS — Theaterübungen für Sprachunterricht und interkulturelles Lernen. Ismaning: Hueber Verlag. ISBN 978-3-19-141751-2
Abstract
The word "SPRACH-FLUSS" (flow of language), depicts images of flowing rivers and streams; babbling, gurgling, murmuring along to their destination. They encounter obstacles, turn corners and meander but undeniably reach their goal. SPRACH-FLUSS was a project held in the Sub-Saharan region of Africa in the years 2008 and 2009. 120 pupils and their teachers from 16 countries in Africa took part in these work-shops organised by the Goethe Institute in Johannesburg in conjunction with the Institute for Theatre and Media at the University of Hildesheim in Germany. Of these 120, 20 were invited to put what they learned to use, in a 'meet-and-greet' workshop in the Robert-Bosch secondary school in Hildesheim. The high point of this workshop was a stage performance at the Berlin Academy of Art, called "Sprachen ohne Grenzen" (Languages without Borders). The aim of the workshops, both in Africa and Germany, was for the pupils and teachers to experience through descriptive games, communication training, body work and personality development, a livelier, more enjoyable and more effective method of learning and teaching German. The participants experienced the German language as an international means of communication, during the various interactive exercises they turned corners and meandered but worked hard ...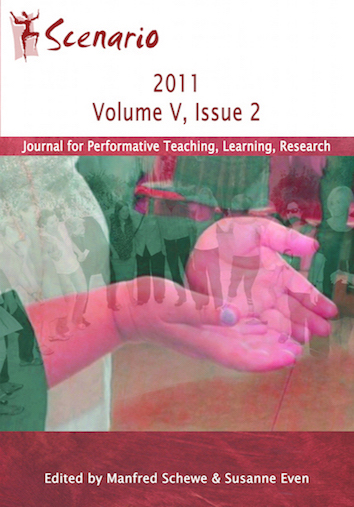 License
Copyright (c) 2011 the author(s)
This work is licensed under a Creative Commons Attribution-NonCommercial-NoDerivatives 4.0 International License.