Using drama-in-education to Facilitate Active Participation and the Enhancement of Oral Communication Skills among First Year Pre-service Teachers
Abstract
This study provides an evaluation of a program in drama-in-education aimed at enhancing the English oral communication skills among a cohort of 63 first year intermediate phase (English second language) teachers and to establish to what extent they would be prepared to use such creative approaches in their classes as potential teachers. The data for this in-depth qualitative case study was collected through observation of their dramatic presentations, informal interviews with them based on their drama-in-education experiences and written accounts of their learning. The findings suggest that the potential of drama-in-education to enhance oral communication skills amongst English second language trainee teachers is phenomenal. A number of trainee teachers also indicated that they would definitely implement drama in education in their classes as potential teachers, since their exposure to this technique had contributed to the development of their critical and creative skills and their confidence.
References
Ashton-Hay, Sally (2005): Drama: Engaging all Learning Styles. In: Proceedings 9th International INGED (Turkish English Education Association) Conference, Economics and Technical University, Ankara, Turkey, 1-16
Barnes, Douglas (1968): Drama in the English Classroom. Champaign, IL: National Council of Teachers of English
Boudreault, Chris (2010): The Benefits of using Drama in the ESL/EFL Classroom. The Internet TESL Journal, XVI, 1, 1-5. Available online @ http://iteslj.org/
Burgess, Roma; Gaudry, Pamela (1985): Time for Drama: A Handbook for Secondary Teachers. Milton Keynes: Open University Press
Elder, Thomas & Wood, Ronald (eds.) (1964): I ain't got no home. Harrap's Swift Readers (Book 4). London: Harrap Limited, 11-17
Fennessey, Sharon (2000): History in the Spotlight: Creative Drama and Theatre Practices for the Social Studies Classroom. Portsmouth, NH: Heinemann
Landy, Robert J. (1982): Handbook of Educational Drama and Theatre. Westport CT: Greenwood Press
Maley, Alan; Duff, Alan (1979): Drama Techniques in Language Learning. Cambridge: Cambridge University Press
McCaslin, Nellie (1990): Creative Drama in the Classroom. 5th ed. Studio City: Players Press Incorporated
O'Neil, Cecilly (1985): Imagined Worlds in Theatre and Drama. In: Theory into Practice 24/3, 158-165
Phillips, Sarah (1999): Drama with Children. Oxford: Oxford University Press
Verriour, Patrick (1994): In Role: Teaching and Learning Dramatically. Ontario: Pippin Publishing Limited
Vygotsky, Lev.S (1978): Mind and Society: The Development of Higher Mental Processes. Cambridge, MA: Harvard University Press
Wagner, Betty Jane (1998): Educational Drama and Language Arts: What Research Shows. Portsmouth, NH: Heinemann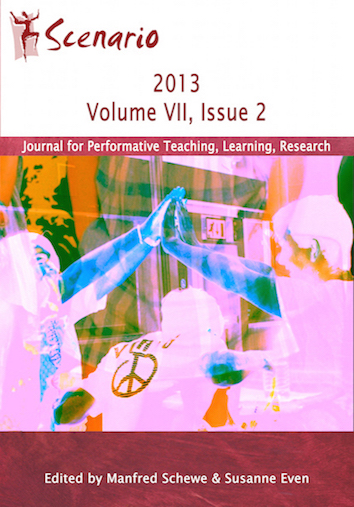 License
Copyright (c) 2013 the author(s)
This work is licensed under a Creative Commons Attribution-NonCommercial-NoDerivatives 4.0 International License.