The Effects of Integrated Drama-Based Role Play and Student Teams Achievement Division (STAD) on Students' Speaking Skills and Affective Involvement
Abstract
The study investigates the pedagogical use of integrated drama-based role play and Student Teams Achievement Division (STAD) cooperative learning, and its effects on the first year non-English majors' speaking skills, motivation, and self-esteem. The study was conducted over an academic semester in a basic English class in a northeastern university in Thailand with two separate groups, with a quasi-experimental design. The participants in this study were 80 non-native undergraduate students whose major was not English. Over the 16 weeks of the study, both groups of students studied English with the same learning content; however, only the experimental group was introduced to drama-based role play and STAD, with blended-learning instruction, while the control group continued using the course book role plays with regular group work activities and classroom instruction. Both quantitative (t-test) and qualitative (content analysis) methods were used to analyze the results of the study. The results of the quantitative and qualitative analysis showed the effectiveness of drama-based role play combined with STAD on students' speaking skills, motivation, and self-esteem in the experimental group. The study concludes with recommendations for the integration of the blended drama-based and cooperative learning to improve students' English speaking skills and affective involvement.
References
Belz, Julie (2002): Second Language Play as a Representation of the Multicompetent Self in Foreign Language Study. In: Journal of Language, Identity & Education 1, 13-39
Brash, Bärbel; Warnecke, Sylvia (2009): Shedding the ego: drama-based role-play and identity in distance language tuition. In: Language Learning Journal 37 (1), 99-109
Chauhan, Vani (2004): Drama techniques for teaching English. In: The Internet TESL Journal, 10(10). (http://iteslj.org/Techniques/Chauhan-Drama.html)
Cockett, Stephen (2000): Role-play in the post- 16 language class. A drama teacher's perspective. In: Language Learning Journal 22, 17-22
Dailey, Michael (2009): Acting out: A one-year drama class to increase participation. In: The Language Teacher, 33(2). (http://jalt-publications.org/tlt/articles/452-acting-out-one-year-drama-class-increase-participation)
Dodson, Sarah L. (2002): The Educational Potential of Drama for ESL. In: Brauer, G. (Ed.): Body and Language: Intercultural Learning Through Drama. Westport, CT: Ablex Publishing, 161-179
Donnery, Eucharia (2009): Testing the Waters. Drama in the Japanese University EFL Classroom. In: Scenario 1, 1-19
Gaudart, Hyacinth (1990): Using Drama Techniques in Language Teaching. In: Sarinee, Anivan (ed.): Language Teaching Methodology for the Nineties. Anthology Series 24. Singapore: Southeast Asian Ministers of Education Organization. Rationale Language Center, 230-245
Ghaith, Ghazi (2003): Effects of the Learning Together model of cooperative learning on English as a foreign language reading achievement, academic achievement, academic self-esteem, and feelings of school alienation. In: Bilingual Research Journal, 27 (3), 451- 474
Grubbs, Samuel J.; Chaengploy, Salisa; Worawong, Kanoknate (2008): Rajabhat and traditional universities: institutional differences in Thai students' perceptions of English. In: Higher Education, 5 (1), 283-298
Janudom, Ratchadaporn; Wasanasomsithi, Punchalee (2009): Drama and questioning techniques: Powerful tools for the enhancement of students' speaking abilities and positive attitudes towards EFL learning. In: ESP World, 8(5), 23-28
Khamkhien, Attapol (2010): Teaching English Speaking and English Speaking Tests in the Thai Context: A Reflection from Thai Perspective. In: English Language Teaching, 3 (1), 184-190
McCaslin, Nellie (1996): Creative Drama in the Classroom and Beyond. London. Longman Publishers
Miccoli, Laura (2003): English through drama for oral skills development. In: ELT Journal, 57(2), 122-129
Noom-ura, Sripathum (2008): Teaching listening-speaking skills to Thai students with low English proficiency. In: Asian EFL Journal, 10 (4), 173-192
Pacyga, Jonell (2009): Affecting L2 Attitude and Motivation Through Drama. M.A. Dissertation. Hamline University, St. Paul, MN
Piatanyakorn, Sikan (2003): A study of the casual relationship model with reference to variables affecting English achievement of educational students in North-Eastern Rajabhat Institutes. In: Sakon Nakhon Graduate Studies Journal 1 (1), 47-54
Read, Carol (2008). Scaffolding children's learning through story and drama. IATEFL Young Learner Publication, 2008-2. (http://www.countryschool.com/ylsig/members/articles/CAT_Autumn08.pdf)
Royka, Judith Gray (2002): Overcoming the fear of using drama in English language teaching. In: The Internet TESL Journal, 8 (6) (http://iteslj.org/articles/Royka-Drama.html)
Slavin, Robert E. (1995): Cooperative Learning: Theory, research, and practice. (2nd ed.) Boston, MA: Allyn & Bacon
Sukanake, Rathawan; Heaton, Suzanne Leslie; Chantrupanth, Dhanan; Rorex, Paul Dale (2003): Thai university EFL learners' oral responses to various spoken question types. In: Studies in Second Language Learning and Teaching, 12, 19-32.
Swenddal, Heather (2011): How drama facilitates language learning. A case for using drama in the second-language classroom. (http://heatherswenddal.myefolio.com/portfolio/papers/)
Ulas, Abdulhak H. (2008): Effects of Creative, Educational Drama Activities on Developing Oral Skills in Primary School Children. In: American Journal of Applied Sciences 5, 876-880
Wiriyachitra, Arunee (2004): English language teaching and learning in Thailand in this decade. In: Thai TESOL Focus, 15(1), 4-9.
Zyoud, Munther (2010): Using Drama Activities and Techniques to Foster Teaching English as a Foreign Language: a Theoretical Perspective. (Conference presentation, TEFL Methods & Practices at Palestinian Universities) (http://www.qou.edu/english/conferences/firstNationalConference/pdfFiles/muntherZyoud.pdf)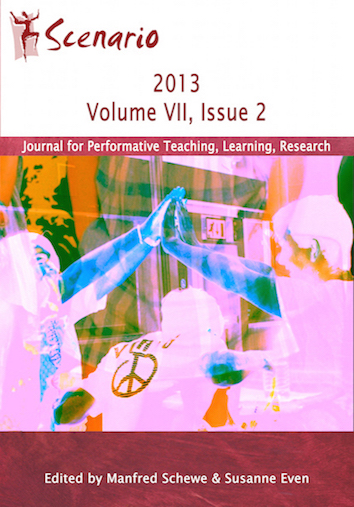 License
Copyright (c) 2013 the author(s)
This work is licensed under a Creative Commons Attribution-NonCommercial-NoDerivatives 4.0 International License.