(Re)living Moments with Momentum: SCENARIO Forum Conference 2017
Abstract
After passing through the northeastern gate of University College Cork (UCC), my colleagues and I walk the bridge over the river Lee and onto a campus that, were it not for the beautiful wet, grey stone of its buildings and walkways, could just as well be some arm of an enchanting forest near the heart of the city. Although it is my first time here, the verdant space that opens up before me is both new and familiar; my eyes see a place they haven't seen before, but in my mind echo years of conversations and expectations that mark this campus as a bastion of performativity. What a fitting venue for the vibrant palette of talks, workshops, panel discussions, and theater performances that graced the 2017 SCENARIO Forum International Conference, held May 25-28, 2017 in Cork, Ireland to mark the 10-year anniversary of the journal's inception! Brainchild of the online SCENARIO journal's co-founders, Susanne Even (Indiana University-Bloomington, USA) and Manfred Schewe (UCC), and aided by the talents of its advisory board members, Eucharia Donnery, Micha Fleiner, Dragan Miladinovic, Róisín O'Gorman, and Erika Piazzoli, as well as a number of volunteers who put the help in helpful, this conference brought a ...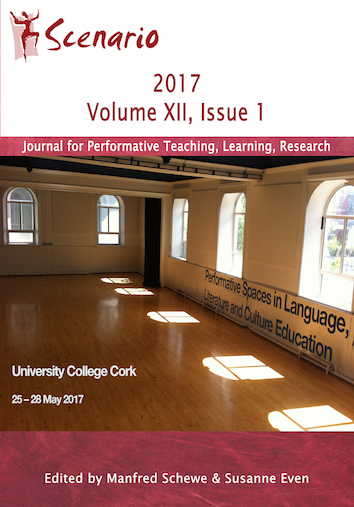 License
Copyright (c) 2017 the author(s)
This work is licensed under a Creative Commons Attribution-NonCommercial-NoDerivatives 4.0 International License.