First Performative Teaching and Learning Symposium
Abstract
On 13th and 14th September 2013, University College Cork (UCC) hosted a symposium which centred on performative practices across different disciplines. It was officially opened by David Ryan, Vice-Head for Teaching and Learning at the College of Arts, Celtic Studies and Social Sciences, UCC, who congratulated the Departments of German and Drama and Theatre Studies, UCC, on organising the first symposium of this kind in Ireland and thus engaging with theoretical perspectives and practices which aim at paving the way towards a new, performative teaching and learning culture. The organisers had formulated some guiding questions: What is the essence of the 'performative'? Are there any indications of an increased 'performative orientation' in some of our disciplines? Could the 'performative concept' signal a whole new way of thinking and acting in the field of teaching and learning? What are the characteristic features of performative teaching and learning? How does one learn to teach in a performative way? The two-day symposium opened with a keynote address by Wolfgang Nitsch (Professor Emeritus of Education, University of Oldenburg & Honorary Professor, Nelson Mandela Metropolitan University (NMMU), Port Elizabeth), followed by eight papers, finishing with a panel discussion. In his keynote address Towards performativity as ...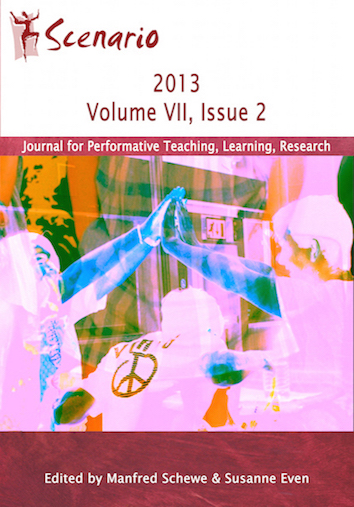 License
Copyright (c) 2013 the author(s)
This work is licensed under a Creative Commons Attribution-NonCommercial-NoDerivatives 4.0 International License.