Performing a conference: SCENARIO Forum 2014
Abstract
"Finally a place where I don't have to explain the basics of what I do. Now we can get to the interesting questions!" was one common tenor in the many fascinating conversations I found myself having at the SCENARIO Forum conference. In various different keys, this sentiment wove through the papers, presentations, and workshops by applied theatre practitioners, performance artists, foreign language teachers/researchers representing a spectrum of languages and age groups from preschool to university, drama teachers, researchers from areas like second language studies, neuroscience, and cultural and literary theory, education specialists, and various hybrids of those categories. The SCENARIO Forum International Conference on Performative Teaching, Learning, and Research was held May 29-June 1, 2014, on the campus of University College Cork (UCC), Ireland. It was, in a way, the live manifestation of the work of Manfred Schewe (UCC) and Susanne Even (Indiana University Bloomington, IN, USA), who co-founded the online journal SCENARIO1 in 2007 and have co-edited it ever since. The focus of the journal is the use of drama and theatre in additional language teaching and it has cultivated a diversity of perspectives and genres since its inception, not least by being bilingual (German/English). It is the only ...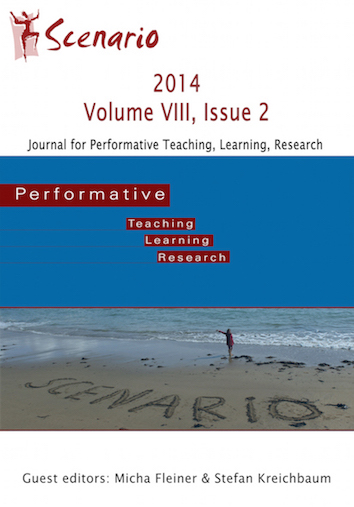 License
Copyright (c) 2014 the author(s)
This work is licensed under a Creative Commons Attribution-NonCommercial-NoDerivatives 4.0 International License.