Creative Writing and Performance in EFL Teacher Training: A Preliminary Case Study
Abstract
The following case study was conducted in 2014 in the Department of Didactics of the Institute for English Language and Literature at the Freie Universität Berlin. It was conceived as a preliminary investigation for an ongoing qualitative research project called The Experience of Theatrical Performance in EFL Teacher Education. The purpose of this larger project is to study the effects of the experience of theatrical performance (i.e. live performance before an audience) on EFL teachers-in-training. For this preliminary study, qualitative data were obtained from a group of seven undergraduate English Education students in conjunction with a course focused on the use of creative writing in the EFL classroom. As part of the course work, the students produced a small number of original creative texts in traditional literary genres: a personal essay, two short stories (using 1st and 3rd person point-of-view), a poem and a short play. Each student also kept a Course Journal, in which he or she wrote daily in-class creative writing exercises as well as critical and personal reflections. The course ended with a Public Reading: the students presented their creative work before an audience comprised of peers, faculty, and members of the general public. The following paper considers in particular the students' personal reflections both before and after this Public Reading. What emerges is a coherent emotional and cognitive trajectory, determined in all of its moments by the theatrical event (as future, present, and past experience) of performing original creative work before a live audience. Because the investigation was conducted by a participant in the course (i.e. the teacher himself, a native English speaker born in the United States), the report also includes thick description of the intersubjective and intercultural contexts of the study, as well as ethnographic reflections on its limitations.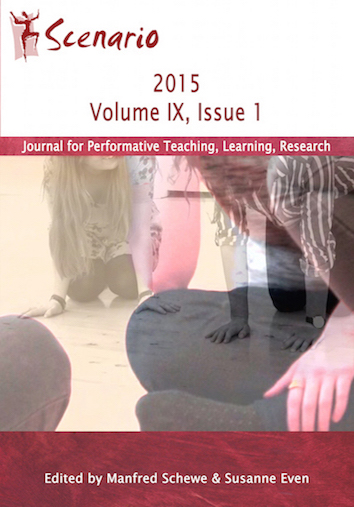 License
Copyright (c) 2015 the author(s)
This work is licensed under a Creative Commons Attribution-NonCommercial-NoDerivatives 4.0 International License.