Notes on the third Drama in Education Days 2017
Abstract
After two successful conferences (2015 & 2016) at Reutlingen University, the third Drama in Education Days was held at Konstanz University of Applied Sciences, June 30th and July 1st, 2017. The bilingual (English/German) conference focuses on best practice and research in the field of drama and theatre in education in second and foreign language teaching, and is organised by Dr. Stefanie Giebert (Konstanz University of Applied Sciences, Germany) und MA Eva Göksel (Centre for Oral Communication, University of Teacher Education Zug, Switzerland). The two-day event caters to teachers, scholars, and performers working with drama and theatre in language education at all levels – primary through to tertiary. This year's conference attracted 45 participants from 9 countries including Austria, Canada, France, Germany, Kirgizstan, Spain, Switzerland, the US, and the UK. The conference kicked off Thursday, June 29th, with a hands-on pre-conference workshop, during which Tomáš Andrášik (Masaryk University) demonstrated how improv theatre creates a positive classroom atmosphere and fosters communication skills. In the space of two hours, workshop participants tested out techniques to lower communicative anxiety and to develop public speaking skills. Exercises aimed at building self-confidence in speaking and listening and to empower spontaneous and authentic communication were also presented. ...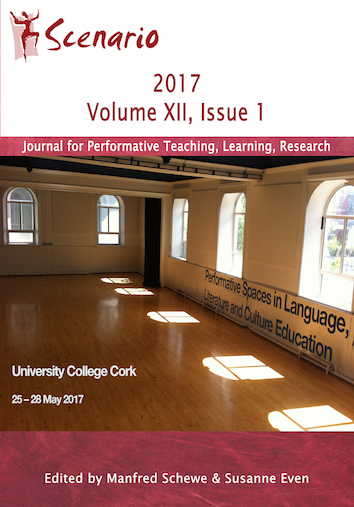 License
Copyright (c) 2017 the author(s)
This work is licensed under a Creative Commons Attribution-NonCommercial-NoDerivatives 4.0 International License.