Peter Lutzker (2007), The Art of Foreign Language Teaching
Abstract
In den wissenschaftsfixierten Fremdsprachendidaktiken haben die Künste lange ein Schattendasein geführt. Derzeit allerdings mehren sich die Zeichen dafür, dass die Künste mehr ins Licht treten und den Boden bereiten helfen für eine neue, performative Fremdsprachendidaktik.1 Auf diesem Hintergrund soll Lutzkers umfangreicher Studie (478 S.) neue Beachtung geschenkt werden, denn der Autor macht auf die vielfältigen Verbindungslinien aufmerksam, die es seit antiker Zeit zwischen Lehre und Kunst gibt und liefert empirische Belege für die Effektivität eines von der (Theater-)Kunst inspirierten Lehrens und Lernens. Seine Studie könnte beispielsweise ein sinnvoller Bezugspunkt sein, um im Rahmen des 14. Kongresses der Deutschen Gesellschaft für Fremdsprachenforschung (Hamburg, 28.9 – 1.10. 2011) nach Antworten auf Fragen zu suchen, die für die Arbeitsgruppe 11 zum Schwerpunktthema Theatermethoden und Fremdsprachenunterricht formuliert wurden: "Sind die proklamierten Einflüsse der Theaterarbeit auf die Persönlichkeitsentwicklung und die Ausbildung von sprachlichen bzw. interkulturellen Kompetenzen messbar? Und wie müssen Forschungsinstrumente beschaffen sein, um diese komplexen und vielschichtigen Unterrichtsprozesse gegenstandsangemessen zu ergründen?"2 Lutzkers Studie besteht aus zwei Teilen. Im ersten trifft er zunächst die grundsätzliche Unterscheidung zwischen auf der einen Seite pädagogischen Konzepten, die sich an Modellen von Science and Business orientieren und auf der anderen Seite einem Verständnis von Lehren als Kunst. Die dominante ...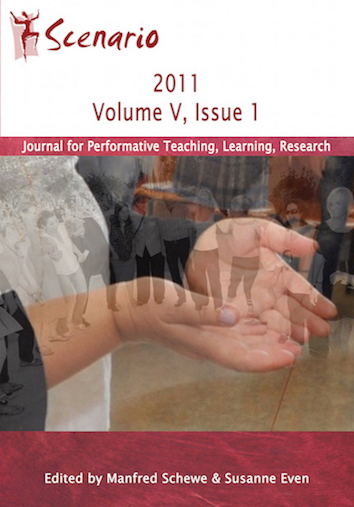 Downloads
License
Copyright (c) 2011 the author(s)
This work is licensed under a Creative Commons Attribution-NonCommercial-NoDerivatives 4.0 International License.