Bericht zum 26. Kongress der Deutschen Gesellschaft für Fremdsprachenforschung zum Thema "Sprachen lehren"
Abstract
Der zweijährig stattfindende Kongress der Deutschen Gesellschaft für Fremdsprachenforschung (DGFF) ist eine der großen Fremdsprachendidaktik-Tagungen im deutschsprachigen Raum. Vom 30.09.- 03.10.2015 fand der diesjährige Kongress an der Pädagogischen Hochschule Ludwigsburg statt und wurde von ungefähr 400 TeilnehmerInnen besucht. Die TeilnehmerInnen rekrutieren sich normalerweise hauptsächlich aus Lehrenden und Forschenden aus der universitären Fremdsprachendidaktik und Lehrerseminaren sowie Lehrkräften aller Schultypen. In 12 Sektionen und 12 AG-ähnlichen "freien Formaten" deckte der Kongress eine sehr große Bandbreite von Themen ab; die dramapädagogisch orientierten Vorträge verteilten sich über verschiedene Sektionen.1 Der vorliegende Bericht konzentriert sich auf diese Vorträge sowie ein dem Thema Dramapädagogik gewidmetes AG-Format. Carola Surkamp (Universität Göttingen) beschäftigte sich in ihrem Vortrag mit dem Thema "Handlungsorientierte Methoden im fremdsprachlichen Literaturunterricht – eine Videographiestudie".2 Die Studie wurde im Englisch- und Französisch-Unterricht verschiedener Klassenstufen eines Gymnasiums durchgeführt. Ziel war es herauszufinden, was Lehrkräfte unter Handlungsorientierung verstehen, wofür handlungsorientierte Elemente eingesetzt werden und wie handlungsorientierte Unterrichtseinheiten typischerweise ablaufen. Es stellte sich heraus, dass die an der Studie teilnehmenden Lehrkräfte unter handlungsorientiert offenbar vielfach einen Unterricht mit dramapädagogischen Elementen verstanden. Im Vortrag wurde ein Beispiel aus dem Literaturunterricht Englisch der 11. Klasse (zu Shakespeares The Merchant of Venice) vorgestellt. Hier arbeiteten die SchülerInnen mit Rollenbiographien und Standbildern ...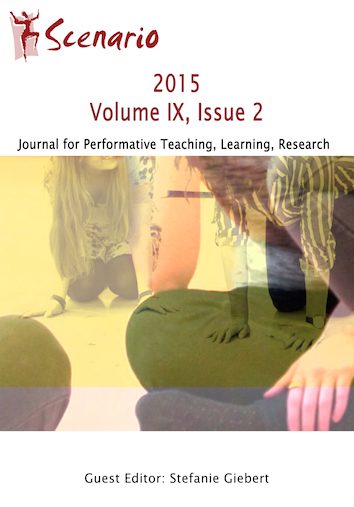 Downloads
License
Copyright (c) 2015 the author(s)
This work is licensed under a Creative Commons Attribution-NonCommercial-NoDerivatives 4.0 International License.